About
VeHICaL is an NSF Cyber-Physical Systems (CPS) Frontier project that is developing the foundations of verified co-design of interfaces and control for human cyber-physical systems (h-CPS) --- cyber-physical systems that operate in concert with human operators. VeHICaL aims to bring a formal approach to designing both interfaces and control for h-CPS, with provable guarantees. The VeHICaL approach is bringing a conceptual shift of focus away from separately addressing the design of control systems and human-machine interaction and towards the joint co-design of human interfaces and control using common modeling formalisms and requirements on the entire system. This co-design approach is making novel intellectual contributions to the areas of formal methods, control theory, sensing and perception, cognitive science, security and privacy, and human-machine interfaces.
The foundational work being pursued in the VeHICaL project is being validated in two application domains: semi-autonomous ground vehicles that interact with human drivers, and semi-autonomous aerial vehicles (drones) that interact with human operators.
Overview of the VeHICaL Approach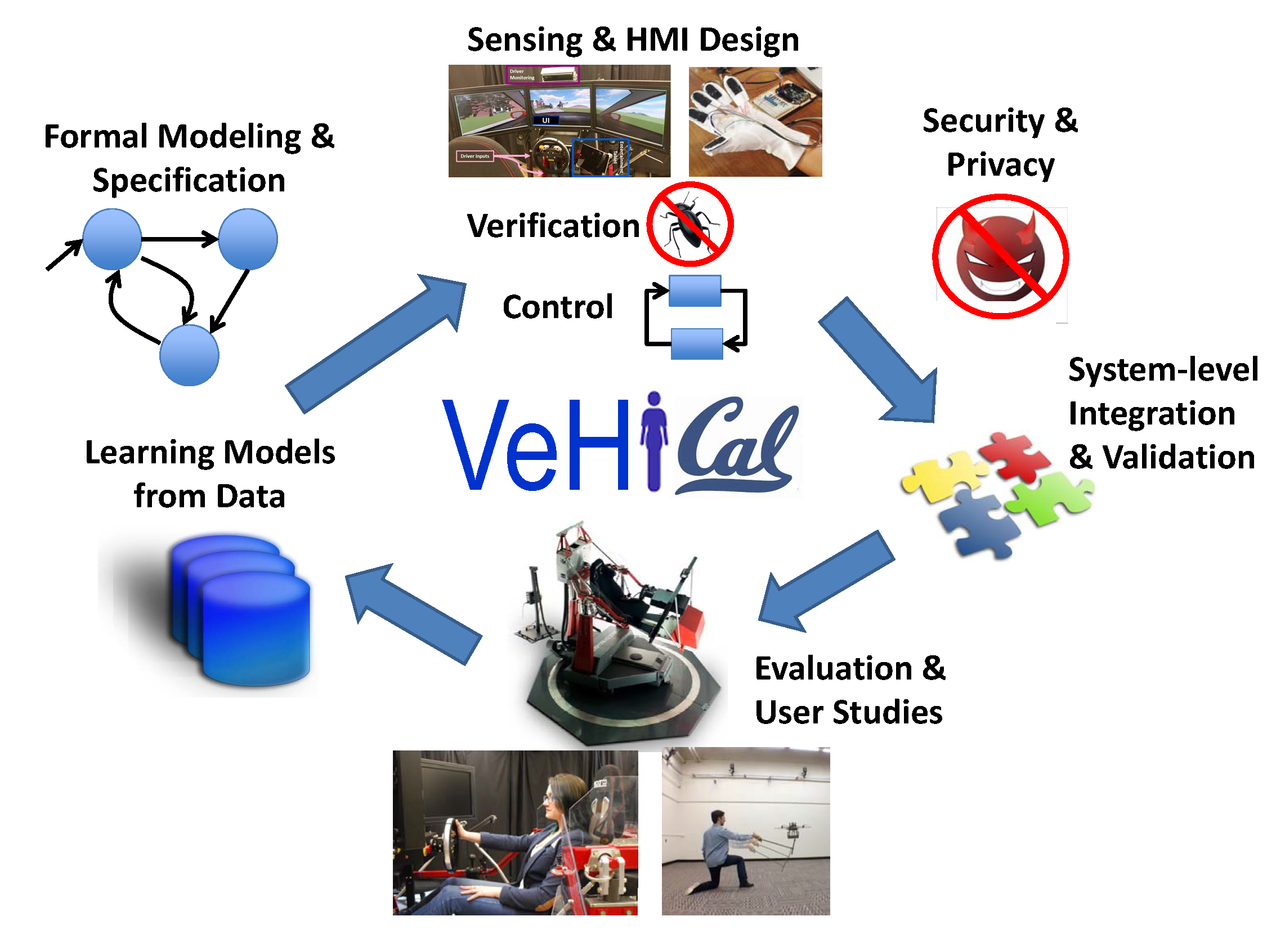 People
Principal Investigators
University of California, Berkeley
Events
Sept 27, 2016: VeHICaL Project Kickoff Meeting: Agenda
Oct 31, 2016: NSF CPS PI Meeting: Overview Presentation (PDF)
May 9, 2017: VeHICaL industry workshop
Sept 19, 2017: VeHICaL Workshop
Oct 4, 2019: Vehical 3rd Annual Meeting (Agenda + Slides)
Publications
Using a Driver's Eye Data to Predict Accident-Causing Drowsiness Levels. Alyssa Byrnes and Cynthia Sturton. The 21st IEEE International Conference on Intelligent Transportation Systems, November 2018. Drowsy Driver Dataset.
HindSight: Enhancing Spatial Awareness by Sonifying Detected Objects in Real-Time 360-Degree Video. Eldon Schoop, James Smith, and Bjoern Hartmann. 2018. In Proceedings of the 2018 CHI Conference on Human Factors in Computing Systems (CHI '18)
Vazquez-Chanlatte, Marcell, et al. "Logical Clustering and Learning for Time-Series Data." International Conference on Computer Aided Verification. Springer, Cham, 2017.
Active Preference-Based Learning of Reward Functions Dorsa Sadigh, Anca Dragan, S. Shankar Sastry, Sanjit A. Seshia Robotics: Science and Systems (RSS), July 2017.
Stochastic Predictive Freeway Ramp Metering from Signal Temporal Logic Specifications Negar Mehr, Dorsa Sadigh, Roberto Horowitz, S. Shankar Sastry, Sanjit A. Seshia 2017 American Control Conference (ACC), May 2017.
Information Gathering Actions over Human Internal State Dorsa Sadigh, S. Shankar Sastry, Sanjit A. Seshia, Anca Dragan IEEE/RSJ International Conference on Intelligent Robots and Systems (IROS), October 2016.
Towards Trustworthy Automation: User Interfaces that Convey Internal and External Awareness Tara Rezvani, Katherine Driggs-Campbell, Dorsa Sadigh, S. Shankar Sastry, Sanjit A. Seshia, Ruzena Bajcsy IEEE Intelligent Transportation Systems Conference (ITSC), November 2016.
Safe and Interactive Autonomy: Control, Learning, and Verification. Ph.D. Dissertation, EECS Department, University of California, Berkeley, 2017.
Systematic Testing of Convolutional Neural Networks for Autonomous Driving T. Dreossi, S. Ghosh, A. Sangiovanni-Vincentelli, S. A. Seshia Reliable Machine Learning in the Wild (RMLW 2017)
Compositional Falsification of Cyber-Physical Systems with Machine Learning Components T. Dreossi, A. Donzé, S. A. Seshia NASA Formal Methods (NFM 2017)
Datasets
The Visual-Acoustic Vehicle Dataset is a set of multimodal data collected from a Lincoln MKS car including vehicle sensors information, 360º image data collected from eight cameras on top of the car, and LiDAR information. Visual-Acoustic Vehicle Dataset.